BUENOS AIRES PARKS BIKE TOUR
Buenos Aires Parks Bike Tour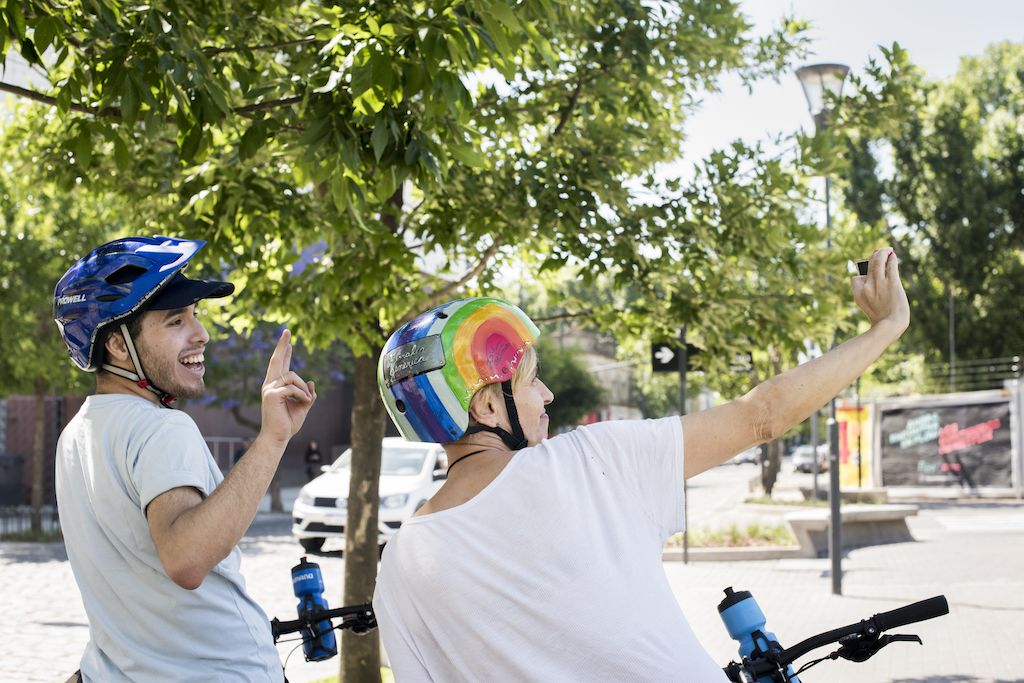 TOUR DESCRIPTION
Laid-back Buenos Aires is exactly what you'll see on this bike tour. Rather than diving straight into the heart of the city, we'll take advantage of the green spaces and relaxing, hidden gems that allow you to see the city in a different light. This leisurely tour through the luscious green parks and plazas in the north of the city will leave you feeling refreshed and intrigued.
We'll meet in chic Palermo Hollywood before making our way towards some of our favorite parks. Along the way, we'll see swan-filled lakes and wide boulevards. We'll cycle past monuments and statues with strange and mysterious histories that we'll stop to explain. We'll enjoy sweet-smelling roses tucked under thick tree canopies, and we'll get up close and personal with the city's deceased elite at the Recoleta cemetery. But most importantly, we'll appreciate a few local delicacies at one of our favorite neighborhood joints.
This tour is meant to relax and rejuvenate, all while exploring a different side of Buenos Aires.
MORE INFORMATION
Tour Highlights
• Lago de Regatas
• Rose Garden
• Plaza Evita
• Cementerio de Recoleta
• Floralis Generica
Meeting Point
This tour meets at Balcarce 1016, Casa de Castagnino, San Telmo, Ciudad Autónoma de Buenos Aires.
Important Information
Where is the meeting point?
This tour meets at Emilio Ravignani 2120, Esquina del Antigourmet, Palermo, Ciudad Autónoma de Buenos Aires
What's the cancellation policy?
We're happy to offer free changes and 100% refund up to 24 hours before tour departure. Failure to cancel a reservation at least 24 hours prior to scheduled departure may result in forfeited travel funds. Fare difference may apply.
What are your covid policies?
Masks are not required at this time, but we take every effort to ensure social distancing while on tour.
What if it rains?
Our tours run rain or shine, and we have rain ponchos available.
Is this a good tour for kids?
What kind of bikes do you use?
We use 3-gear City Bikes, single-speed Bamboo Bikes, and 21-gear MTB bikes. You are welcome to test the bikes upon arrival and choose whatever suits you best!
Are helmets mandatory?
Will we enter any of the monuments that we see?
This tour was designed to see Buenos Aires from a broad perspective, so we have not built in time to enter any museums or monuments.
How long is the tour?
The tour is about five hours long and covers a distance of 10.5 miles/17 kilometers.
Can I leave the tour early?
Unfortunately, we cannot accommodate special requests like this on our group tours, and ask that you plan on staying with us until the tour is over.
Can I store my luggage at your shop during the tour?
Will my bike have a basket?
What's included?
We provide the bike, helmet, poncho if needed, a water bottle, a live guide, and lunch. Dietary restrictions can be accommodated; please leave us a note when booking! Entrance into the Recoleta cemetery is not included, and gratuities are at your discretion.