BUFFALO WATERFRONT BIKE TOUR
Buffalo Waterfront Bike Tour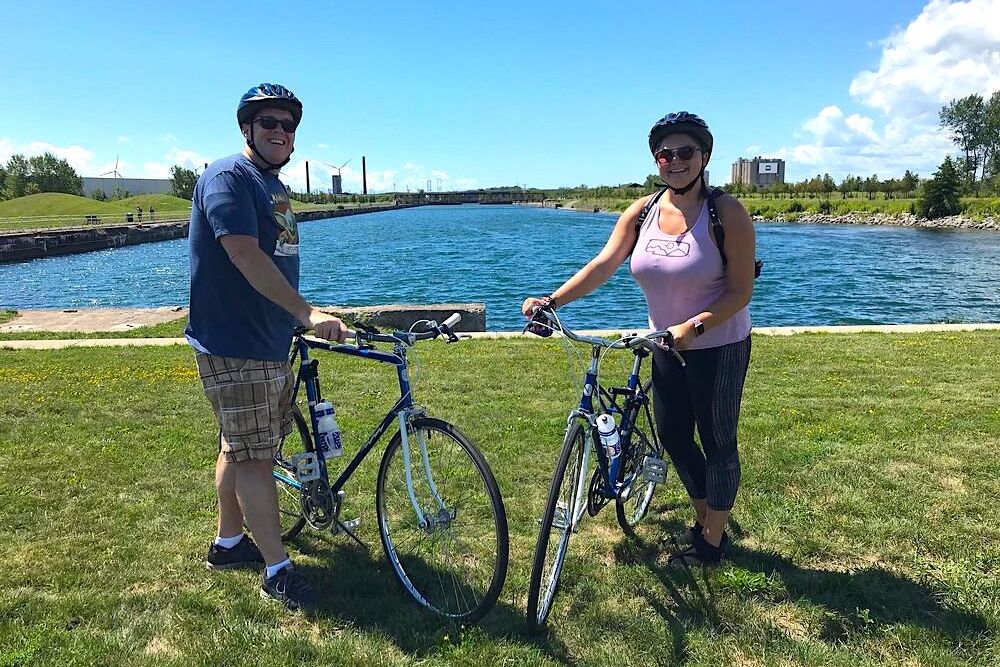 TOUR DESCRIPTION
Enjoy the newly renovated Buffalo Waterfront by bike! Allow our local guides to lead you along the dedicated bike paths to discover this urban playground.
Starting at our centrally located office, we'll make our way towards Canalside to discover the port and modern art that lines the waterfront. Along the way, we'll see famous buildings and monuments such as the Ford Company Building, the Tim Horton Statue, the Flatman Statue, and the DL & W Train Terminal to name a few. At each stop, you will have plenty of time for pictures as your guide shares the history of each landmark. There is so much to see and experience along the waterfront, and we want to make sure that you can take it all in.
We'll also head north, seeing sites such as the Buffalo Lighthouse, the Naval Park and Museum, and of the famed Wilkeson Point Park that offers amazing views. No tour of Buffalo will provide you with as many scenic opportunities as this one! We would you to have you join us for a fun and informative tour of the Queen City.
MORE INFORMATION
Tour Highlights
| | |
| --- | --- |
| • Giant Molten Iron Ladle | • Saskatchewan Elevator |
| • Ford Motor Company Building | • Outer Harbor Bike Park |
| • Flatman Sculpture | • Silo City |
| • Riverfest Park | • Wilkeson Point & Times Beach |
| • Buffalo Lighthouse | • John Maynard Memorial |
| • DL & W Train Terminal | • Tim Horton Statues |
Meeting Point
This tour meets at our office, located at 201 South Park Ave, Buffalo, NY 14204.
Important Information
Where is the meeting point?
This tour meets at our office, located at 201 South Park Ave, Buffalo, NY 14204.
What are your covid policies?
All of our bikes are sanitized in between uses.
What is the cancellation policy?
We're happy to offer free changes and 100% refund up to 24 hours before tour departure. Failure to cancel a reservation at least 24 hours prior to scheduled departure may result in forfeited travel funds. Fare difference may apply.
What if it's raining?
Our tours run rain or shine, so be prepared with your rain gear!
Is this a kid-friendly tour?
Kids are welcome, however we only have one bike size.
Speaking of bikes, what kind do you have?
We offer road and e-bikes. You are also welcome to bring your own bike. Please select your preferred bike option when checking out.
Are helmets required?
Yes, and they're also provided free of charge.
Which museums will we enter?
Our Buffalo Waterfront Bike Tour is meant to help you discover the unique port-side culture, but we will do most of our storytelling from the bikes. While we don't allow time to go inside any of the landmarks that we see on tour, we'll give you plenty of information so that you can go back and visit the ones that interest you most after the tour concludes.
How long is the tour?
We'll cover about 8.5 miles/13.8 kilometers over the course of 2.5 hours.
What kind of e-bikes do you have?
We use pedal assist e-bikes.
Can I store my luggage at your office?
Will my bike have a basket?
Not all bikes come fitted with baskets, but we have some that you are welcome to use should you wish. These are free of charge.
Can I make this a private tour?
Absolutely! Please contact us should you wish to organize something private just for your group.