PANAMA CITY HIGHLIGHTS BIKE TOUR
Panama City Highlights Bike Tour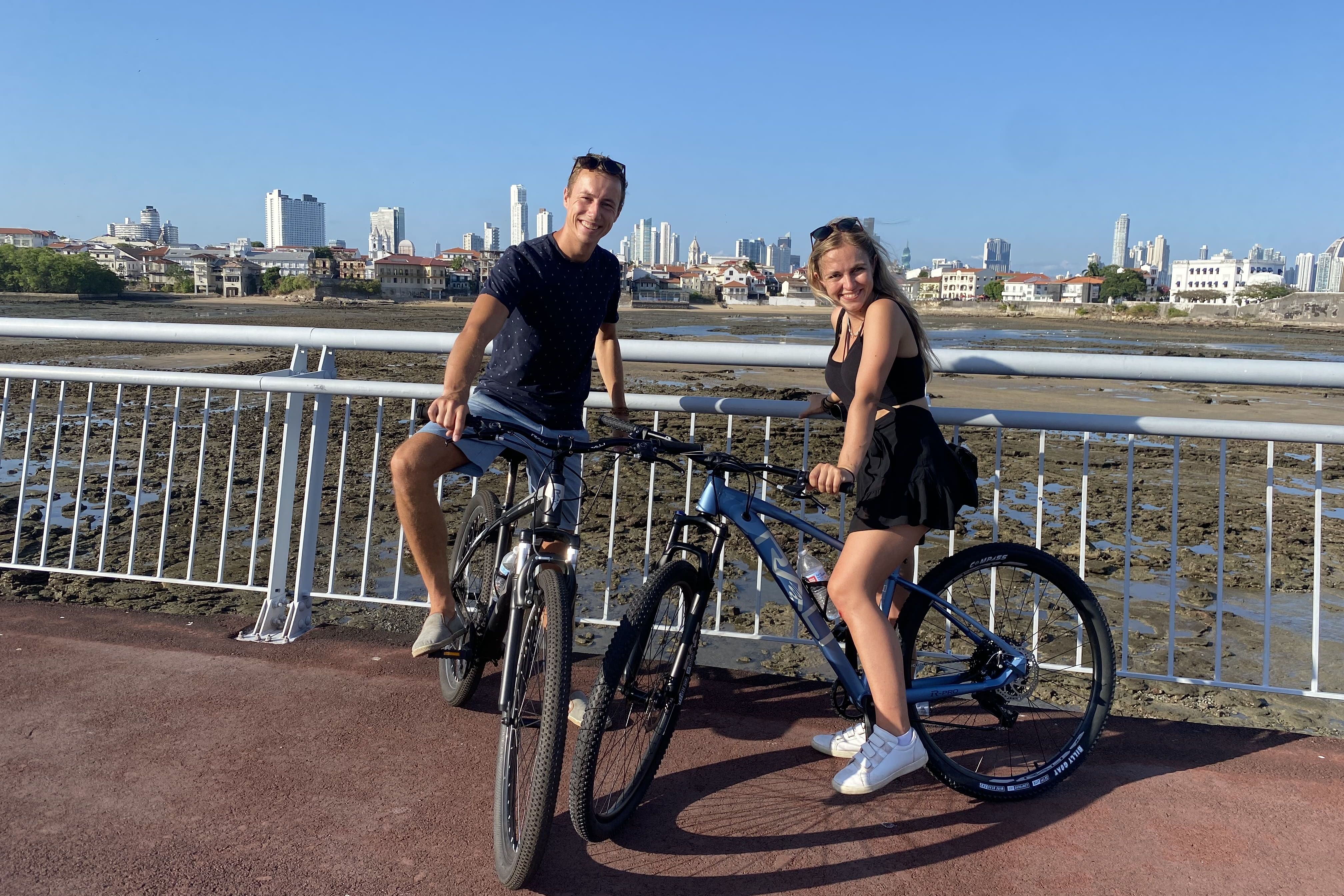 TOUR DESCRIPTION
Discover beautiful Panama City with us on this comprehensive bike tour!
Starting from our easy to find meeting point at Baloo Cafe in Casco Viejo, we will embark on a three hour tour that will show off the must-see sites of Panama City. Thanks to our local guides, you will receive an insider's tour around 'the movable city'.
Most known for the Panama City, this little city has so much more to offer. Discover the historic, cobblestoned city-center and see the Presidential Palace. Visit the Simon Bolivar monument and learn about revolutionary career and why he's famous in Panama. Marvel at the National Theatre and the San Francisco church; both gems of Panama City.
As we wrap up the tour, your guide will be happy to provide you with dining and sightseeing recommendations. We want you to make the most out of your stay in our city!
MORE INFORMATION
Tour Highlights
• Panama sign
• Casco Viejo
• Old City
• Panamá Viejo
• Pablo Arosemena Monument
• The French Square
• Simon Bolivar Square
• San Francisco de Asis Church
• Teatro Nacional
Meeting Point
This tour meets at Go Panama Bike Tours located at Calle San Miguel, Panama.
Important Information
Where is the meeting point?
This tour meets at Go Panama Bike Tours located at Calle San Miguel, Panama.
What's the cancellation policy?
We're happy to offer free changes and 100% refund up to 24 hours before tour departure. Failure to cancel a reservation at least 24 hours prior to scheduled departure may result in forfeited travel funds. Fare difference may apply.
What are your covid policies?
Hand sanitizers are available to use free of charge in our office and we disinfect bike handles and helmets. Wearing masks is not mandatory in Panama City..
What if it rains?
If there is heavy rain, a member of our team will reach out to reschedule. Our tours will continue in light rain, and we provide ponchos.
Is this a good tour for kids?
This tour is great for anyone 12 and older. We ask that all participants feel comfortable and confident riding their own bicycle.
What kind of bikes do you use?
We use comfortable mountain bikes that are great for all terrain in Panama City.
Are helmets mandatory?
No, but we have helmets available free of charge.
Will we enter any of the monuments that we see?
We have designed this tour to be a grand overview of Panama City, so we have not allotted time to enter any of the museums or monuments that we see on tour. We will however, give you plenty of information and history about all the sites we see, and we'll be happy to give you directions back to anything that you'd like to visit on your own after the tour is over.
How long is the tour?
The tour is about three hours long and covers a distance of 7.5 miles/12 kilometers.
Can I leave the tour early?
If you know that you will not be able to join us for the duration of the tour, thank you for letting our team know in advance so that we can make other arrangements!
Can I store my luggage at your shop during the tour?
Will my bike have a basket?
Our bikes do not have baskets, so we ask that all guests bring only what they need for the tour and a small backpack if necessary.
What's included?
We provide the bike, helmet, water, and a live guide.