ROTTERDAM FOOD BIKE TOUR
Rotterdam Food Bike Tour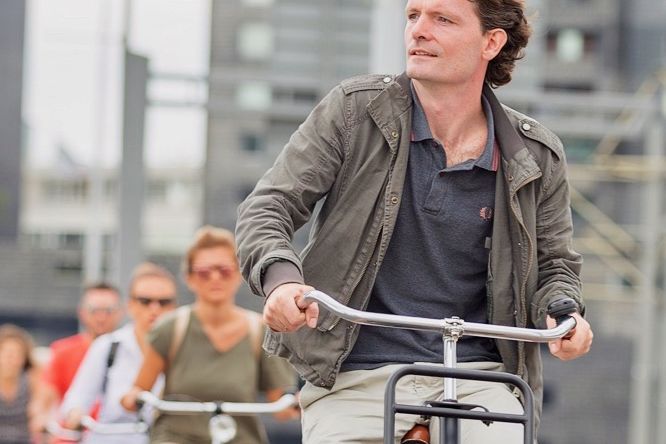 TOUR DESCRIPTION
One thing is certain, Rotterdam is booming! The combination of its modern architecture, the harbor, the sense of space, the public art, the fantastic museums and the many international influences make it a unique city in the Netherlands. The culinary scene is evolving rapidly as well, and we would love to show you our favorite spots!
This tour and gives you both an overview of the fascinating city of Rotterdam plus an insider's look at some of the best cuisine in town. Appreciate the highlights and the hidden gems in one, well-crafted tour. A local and knowledgeable guide will tell you wonderful stories while you stop to taste the best local food in town. This tour lasts about four hours and includes six stops for bites, and we also include a 'borrel' at the end (Dutch for a cosy drink with friends). When you're done you'll feel like a true 'Rotterdammert'!
MORE INFORMATION
Tour Highlights
• Hofplein Train Line
• Rooftop Farm
• Central Station
• Chinatown
• Depot Building
• Markthal
• Cube Houses
• Erasmus Bridge
• Hotel New York
• Cruise Terminal
• Katendrecht
Meeting Point
This tour departs from our shop, located at 2e Blekerhof 38, 3011 CK Rotterdam, Netherlands.
Important Information
Where is the meeting point?
This tour departs from 2e Blekerhof 38, 3011 CK Rotterdam, Netherlands.
What's the cancellation policy?
We're happy to offer free changes and 100% refund up to 24 hours before tour departure. Failure to cancel a reservation at least 24 hours prior to scheduled departure may result in forfeited travel funds. Fare difference may apply.
What are your covid policies?
Masks are no longer mandatory in The Netherlands, but we take care to disinfect our equipment regularly.
What's included?
We provide the bike, expert local guide, helmets if you wish to use them, six food/drink tastings, and a ton of fun! Extra food/drink purchases are at your discretion as are gratuities.
What if it rains?
Our tours will not operate if there is a wind gale force of 6 or higher and/or if severe rainfall is predicted. Cancellations will be at our discretion and will be communicated no less that two days in advance.
Is this a good tour for kids?
This is a great tour for kids 12 and up!
What kind of bikes do you use?
We have comfortable and high quality city bikes from Batavus and Gazelle, with 3 gears and easily adjustable seats.
Are helmets mandatory?
No, but we have helmets that are free of charge and available for use should you wish to have one for the tour.
Will we enter any of the monuments that we see?
We do not visit any museums during the tour, but we will enter the Markthal and the Cube Houses.
How long is the tour?
The tour is about four hours long and covers a distance of just over 9 miles/15 kilometers.
Can I leave the tour early?
Unfortunately, we cannot accommodate special requests like this on our group tours, and ask that you plan on staying with us until the tour is over.
Can I store my luggage at your shop during the tour?
Will my bike have a basket?
Most bikes come equipped with saddle bags which will hold small handbags and other accessories.