ZAGREB HISTORY OF SOCIALISM BIKE TOUR
Zagreb History of Socialism Bike Tour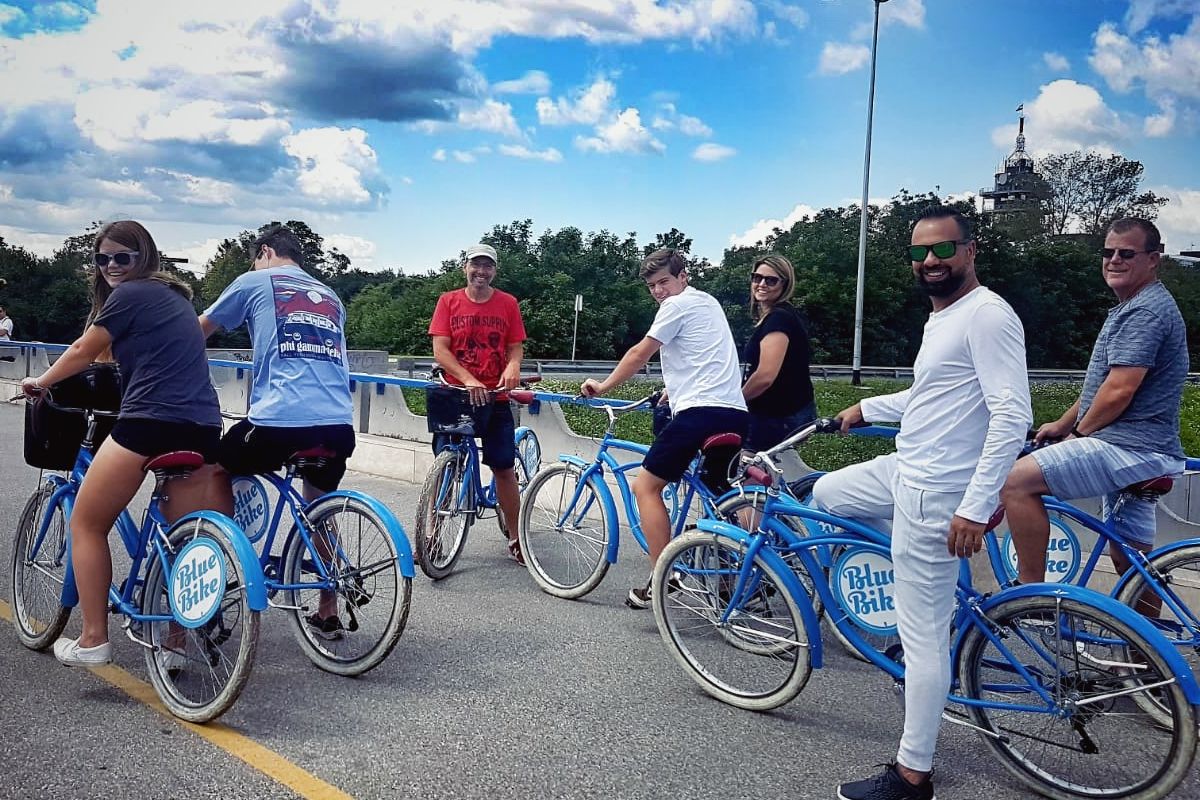 TOUR DESCRIPTION
For those who want a different view of the city beyond the glamorous buildings of the city centre, this tour is exactly what you need! We've created the perfect itinerary to offer you a unique view of the metropolis of Zagreb.
On the other side of the river Sava, a less-visited side of the city awaits you. New Zagreb was formed after World War II and today its neighborhoods tell us stories of time and culture with different values ​​and priorities. Ride with us through more than half a century of modernism, socialism and creative urban and architectural solutions, with some astonishing brutalism and industrial architecture examples. During the ride, you'll hear what life was like in Zagreb in Yugoslavia, what socialism looked like, why and how Yugoslavia fell apart. Your guide will bring your into the conversation so that you can not only listen but discuss your opinons; was it better then or now? The personal stories of your guide reveal the true face of history and real people's experiences.
This route includes also a beautiful park with lake Bundek, a favorite local spot. We'll also ride by some of the most important venues of our fast-growing and vivid street art scene.
MORE INFORMATION
Tour Highlights
• National Theatre
• Green Horseshoe
• River Sava
• Park and lake Bundek
• Contemporary Art Museum
• Graphity Art places
Meeting Point
This tour departs from inside the courtyard at Trg bana Josipa Jelačića 15, 10000, Zagreb, Croatia.
Important Information
Where is the meeting point?
This tour departs from inside the courtyard at Trg bana Josipa Jelačića 15, 10000, Zagreb, Croatia.
What's the cancellation policy?
We're happy to offer free changes and 100% refund up to 24 hours before tour departure. Failure to cancel a reservation at least 24 hours prior to scheduled departure may result in forfeited travel funds. Fare difference may apply.
What are your covid policies?
Our bikes are cleaned regularly, we keep a safe social distance, and a mask is only required while in the office.
What if it rains?
In case of snow and heavy rain, we tend to postpone/reschedule the tour or switch to the walking option. If neither of those options are possible, we are happy to issue full refunds. We will continue with the tour in the event of light rain, so please be prepared!
Is this a good tour for kids?
What kind of bikes do you use?
We use comfortable cruiser bikes.
Are helmets mandatory?
Only for those 12 and under.
Will we enter any of the monuments that we see?
We unfortunately won't have time to allow the group to enter the buildings that we see on our, but we'll equip you with plenty of information to return to the sites you enjoyed the most after the tour.
How long is the tour?
The tour is about 2.5 hours long and covers a distance of 7 miles/11 kilometers.
Can I leave the tour early?
If you have other plans, please contact us in advance so that we can arrange for you to finish the tour early, and so that it doesn't disturb the rest of the group.
Can I store my luggage at your shop during the tour?
Will my bike have a basket?
How far in advance should I reserve?
We ask that you secure your spot at least 12 hours prior to the tour so that we can ensure you have the best possible experience.
What kind of fitness level do I need?
We use comfortable cruiser-bikes that are great for anyone with a moderate physical fitness level. We also plan our routes so as to make the tour safe and accessible for everyone.