E-Scooter: Panoramic Sunset Tour of Florence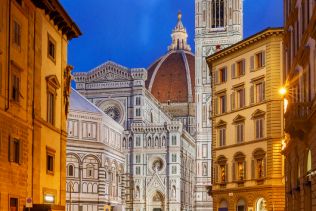 TOUR DESCRIPTION
Watch the sunset over the beautiful city of Florence on this 2.5-hour Electric Scooter Tour. Led by a local professional guide, you'll coast past the architectural gems of the Renaissance as daylight dims and the city lights up. Cruise along the river, see the iconic Ponte Vecchio, the magnificent Santa Croce and some of the hidden gems of the Oltrarno.

- A local guide will bring the history of the city to life
- A cup of wine looking over the most incredible view of Florence from Piazzale Michelangelo
- Cruise past the crowds without breaking a sweat
- Magical photo opportunities in the golden hour of sunset
Local, professional guide
Maxi Power 8 Electric Scooter made by Segway
Helmet
Headset
A glass of local Tuscan wine
Gratuities
Important Information
Piazza della Signoria
It is the main point of the origin and history of the Florentine Republic and still maintains its reputation as the political focus of the city
Santa Croce
Minor basilica and the principal Franciscan church of Florence
San Niccolò
Enjoy a ride along the "lungarno"
Arno River
The river that divides the city in two distinct areas: the city centre and the oltrarno
Piazzale Michelangelo (the best views of Florence)
A square with a panoramic view of Florence
Ponte Vecchio
Medieval stone closed-spandrel segmental arch bridge over the Arno River, noted for the shops built along it
Mediaeval City Walls
Part of the original Medieval City Walls located in few parts of the city
MORE INFORMATION
Hop on an electric scooter and ride through the golden hour as the sun sets over the beautiful city of Florence on this 2.5-hour evening tour. Your local, professional guide will lead you past the architectural gems of the Renaissance as daylight dims and the city lights up. Cruise along the river, see the iconic Ponte Vecchio, the magnificent Santa Croce and some of the hidden gems of the Oltrarno. Then glide away from the crowds and up to the Piazzale Michelangelo where you can enjoy a cup of wine and soak up the most breathtaking views of this incredible city.
RELATED PRODUCTS
Private Local, professional guide
Maxi Power 8 Electric Scooter
Helmet
Headset
Gratuities